Host W. Mark Akin shares Adam Levin's performances of 21st century Spanish guitar, with music by composers Eduardo Morales Caso, Salvador Brotons, Arturo Del Puerto, and more.  
---
August 21: Music of China – Host W. Mark Akin shares Chinese classical guitar music performed by Xuefei Yang, Beijing Guitar Duo, Manuel Barrueco, and Xianji Liu. Composers include Deng Yuxian, Chen Gang, Tan Dun and more.

August 14: Operatic Inspirations – Host W. Mark Akin shares performances inspired by opera. Hear favorite pieces from The Marriage of Figaro and Carmen performed by Pepe Romero, plus themes by W.A. Mozart and Mauro Giuliani performed by David Russell and others. 

August 7: French Music for Two Guitars – Host W. Mark Akin shares French compositions for two guitars with performances by ChromaDuo, Duo Erato, and more. Hear music by Claude Debussy, Maurice Ravel, and others.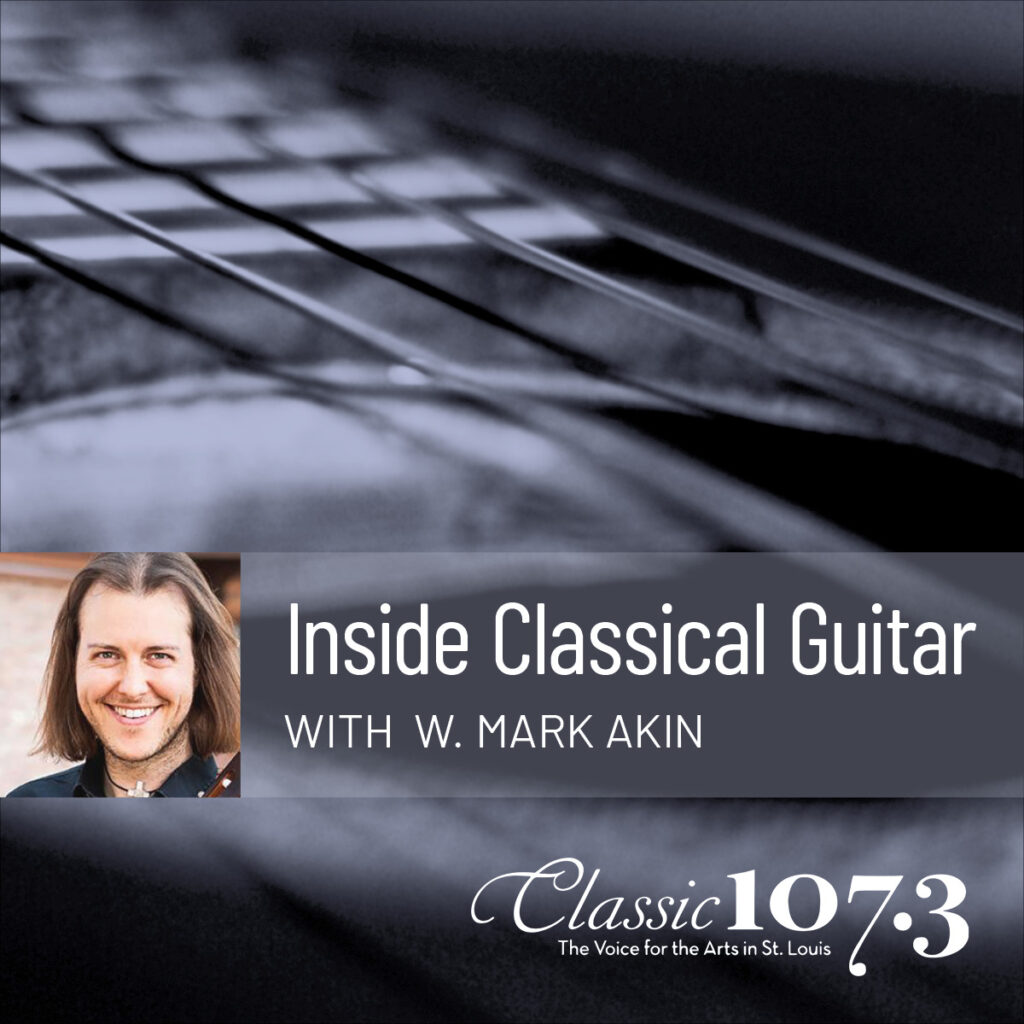 ---
Award-winning classical guitarist W. Mark Akin is a St. Louis-based musician who has engaged audiences across the country with his dynamic on-stage presence and musicality. Mark has won prizes in numerous competitions such as the Wilson Center Guitar Competition in Wisconsin, Beethoven Club Competition in Memphis, the University of Arizona's Beeston Competition and Sholin Competition, and was most recently selected as a winner of the Artist Presentation Society of St. Louis Competition.

Mark  has performed in master classes and taken lessons with some of the greatest guitarists in the world, including Sergio and Odair Assad, Manuel Barrueco, David Russell, and Jason Vieaux, Olivier Chassain, Marcin Dylla, and Adam Holzman. An active teacher, Mark has taught innumerable private lessons and classes. In addition to being on faculty at Washington University, he works with the St. Louis Classical Guitar Society's outreach education initiative entitled Guitar Horizons.