Classic 1073.'s 10th Anniversary!
Thank you for 10 great years on the air!
Broadcasting the best in classical music (as well as jazz, opera, show tunes, and more), conducting interviews with local artists and arts organizations, and amplifying the arts community in St. Louis for the past decade has taken the combined efforts of our staff, our board, our arts partners, and you, our listeners and supporters.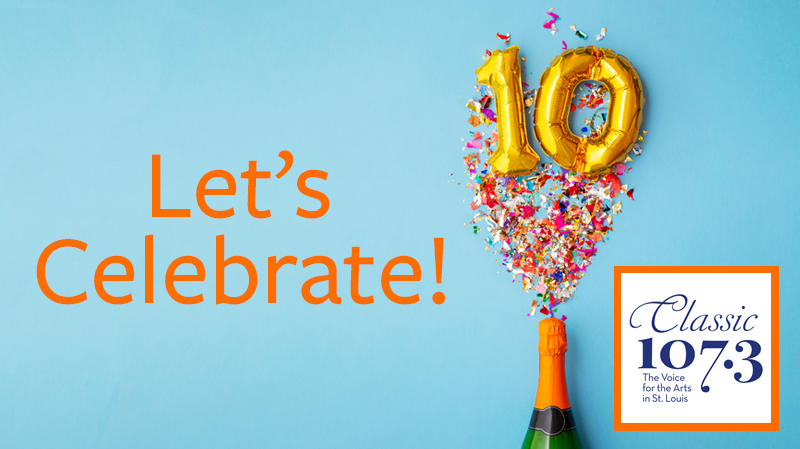 ---
Since 2013, Classic 107.3 has been a home for the St. Louis arts community to unite and flourish. From producing unique local programs like The Slatkin Shuffle and Bach & Beyoncé to hosting special events like Careers in the Arts, Classical Cocktails, and our Beat Beethoven 5K (coming up on April 23), this past decade has been filled with memorable moments, featuring talented artists across many genres.
On behalf of our board, our CEO Julie Schuster, hosts Tom Sudholt, Kathy Lawton Brown, and Gavriel Savit, and staff members Brandon, Carol, Heather, and Sandra, thank you for inviting us into your lives through the airwaves over the past ten years and being a part of our history. May this major milestone be one of many more to come. Cheers!
---
---
Can't believe it's been 10 years since this adventure started! Keep up the great work!

— Jim Connett, General Manager Emeritus of Classic 107.3
---
---
Happy 10th Anniversary to Classic 107.3! Thank you for being the "Voice for the Arts in St. Louis" and keeping us all company when we're out on the roads. Keep up the great work!

— Andrew Jorgensen, General Director of Opera Theatre of Saint Louis
---
---
Happy 10th Anniversary to Classic 107.3, and thanks for all of the support for the arts community in St. Louis!

— Brian Vaccaro, Executive Director of St. Louis Classical Guitar
---
---
Congratulations on 10 years!

— Brian Woods, Music Director at World Chess Hall of Fame
---
Noémi and Michael Neidorff and other local supporters of the arts begin planning the station's vision
The Radio Arts Foundation is registered as a nonprofit
Funds are raised to start the first local radio station to support the arts
Jim Connett begins serving as General Manager
The Board hires on-air hosts Jim Doyle, Kathy Lawton Brown, and Tom Sudholt, as well as producer Brandon LaMew
Classic 107.3 goes live on April 8, 2013 with Beethoven's Ninth Symphony
Somethin' Else with Calvin Wilson debuts
Re-choired Listening with Philip Barnes debuts
Julie Schuster joins the station as a volunteer host
Named to the A-List in St. Louis Magazine
Received Great Music Award from Cathedral Concerts
First live broadcast concert with Denise Thimes
Careers in the Arts panel series events are held
Kaleidoscope Concert is held, featuring pianist Jerry Chang
The station rebrands itself as Classic 107.3
The Slatkin Shuffle debuts
Musical Ancestries™ educational series debuts, sponsored by PNC Arts Alive
Diary of a Musician with Leon Burke, Bach & Beyoncé with Maria A. Ellis, and Tango with Cally debut
Station of the Year runner-up from Missouri Broadcasters Association, plus 3 more awards
Pandemic impacts arts community; Classic 107.3 remains on the air 24/7
Aisle Seat with Julie Schuster debuts
Classic 107.3 begins simulcasting St. Louis Symphony Orchestra concerts live
Named Arts Collaborator of the Year by the Arts and Education Council
Julie Schuster named CEO & General Manager
Gavriel Savit joins the station as Morning Host
American Gospel with Maria A. Ellis debuts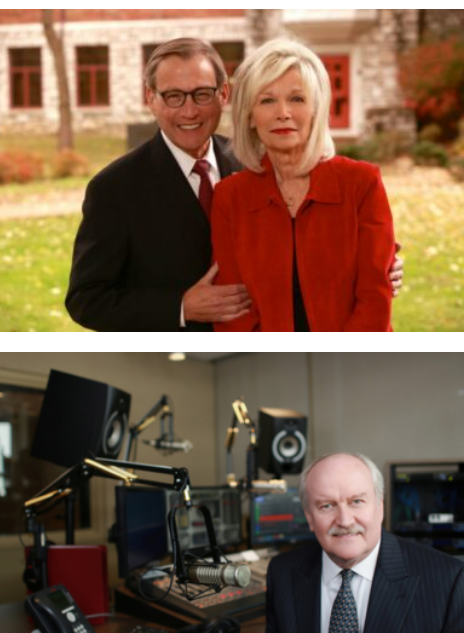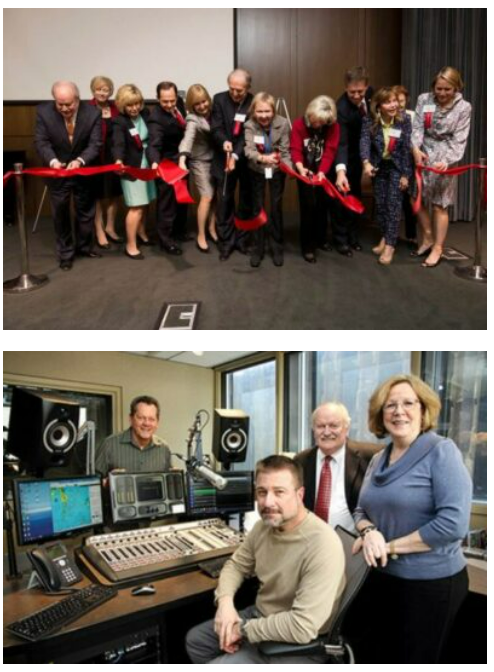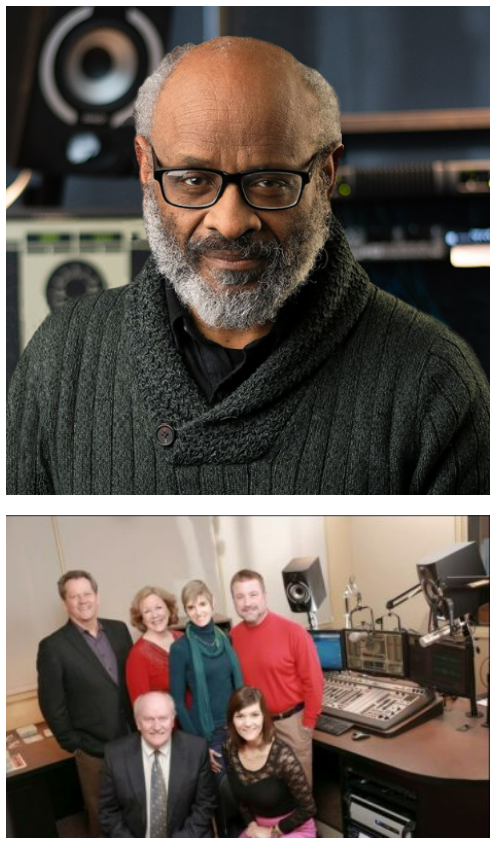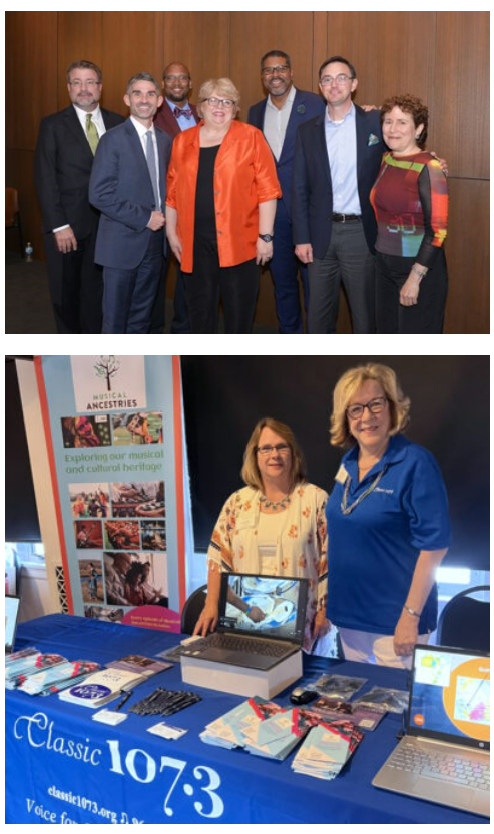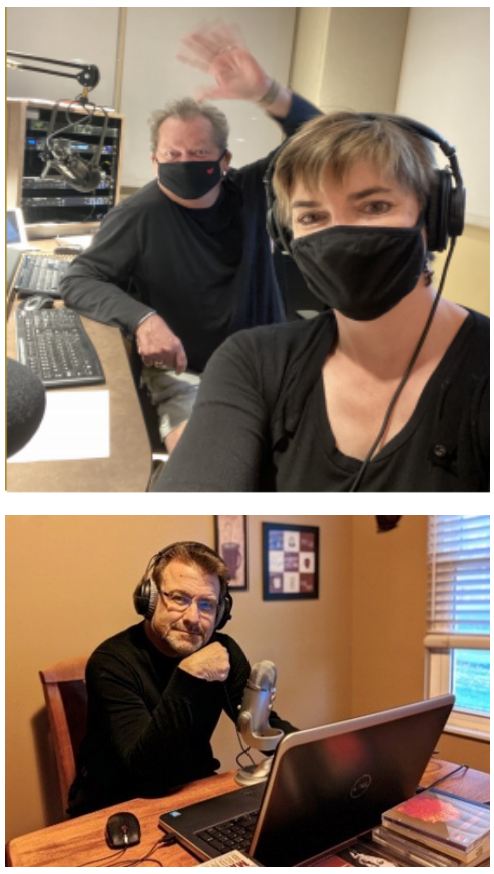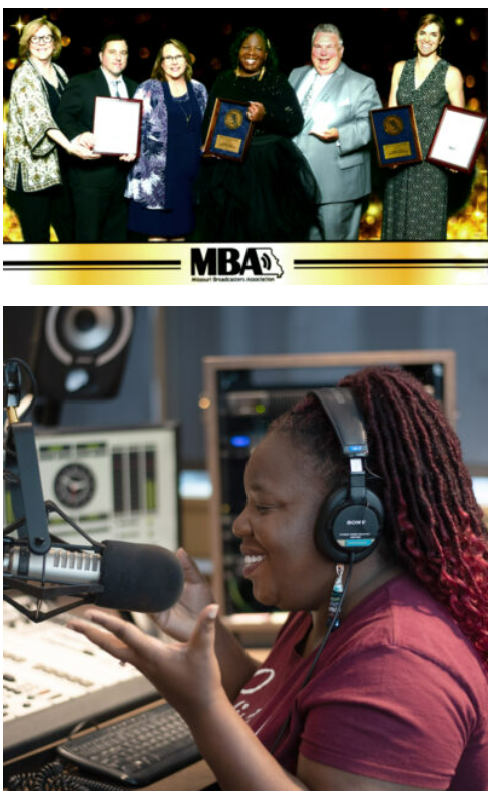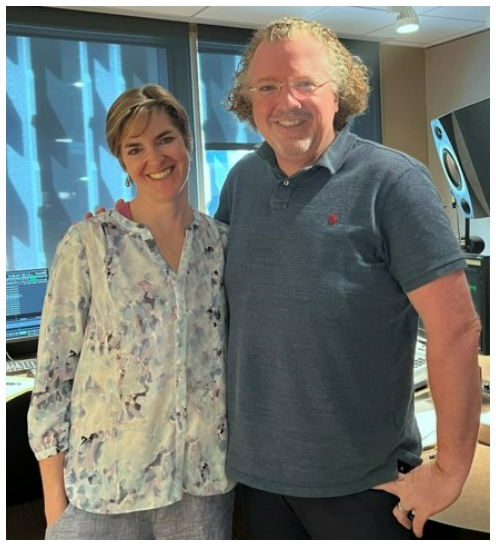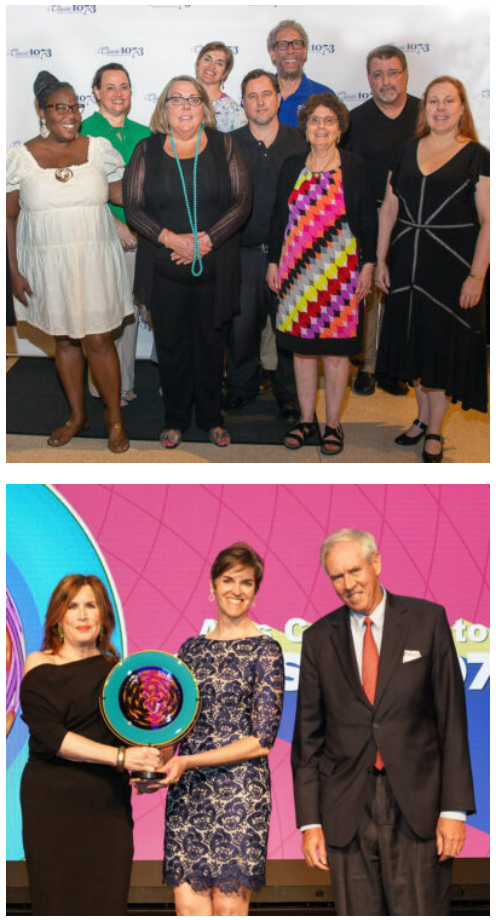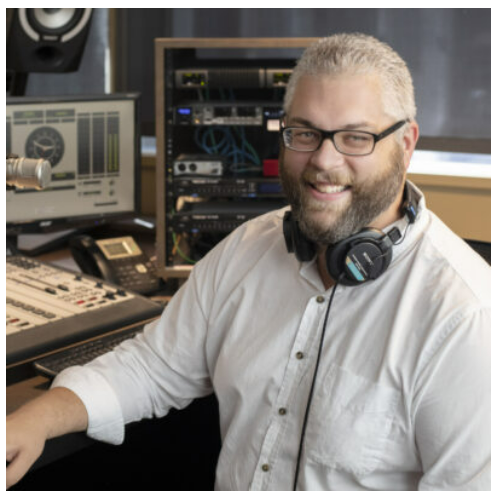 I was devastated when the original Classic 99 went off the air. That station got me through high school and I was looking forward to it being there with me at university. When Classic 107.3 arrived on the scene, I was THRILLED (although still held some animosity towards the greedy people who kicked classical music off the air in the first place!).

Classical music has been with me through very good times and not-so-good times. I am so lucky that my 12 year old son loves classical as much as I do. In fact, Jim Doyle invited us to visit your studios in 2018, and my son was in awe. St Louis (& now, the whole world!) is blessed to have you on the air. Thank you for keeping the world's greatest music alive.

Tom has influenced my knowledge and enjoyment of classical music for what must be thirty-plus years. In an era of rapid change hearing Tom's voice is like listening to an old friend. Here's to the next thirty! Cheers!

Just wanted to wish a happy 10th anniversary to my favorite classical music station! May you continue for many, many more years to come, or as we say in Polish, Sto Lat! (100 years!)

Bravo on 10th Anniversary. Thanks for being a valued source for the Arts in St. Louis & for wonderful classical music. I really enjoy hearing the live broadcasts of the St. Louis Symphony Orchestra & listening to operas on Saturday afternoon. Whenever I hear Tom Sudholt's soothing voice, I smile & relax with the beatiful music.